In the process of attempting to find missing parts for some of my incomplete buildings, I learned that manufacturers are producing only small parts like antennas and weather vanes that are easily broken or easily lost. Replacement walls and roofs are not being made; they're available only from original equipment.

I have been able to find a few of the parts I need, but I always had to buy them in a batch of parts and I've ended up with more incomplete buildings that I started with! So, rather than continue the search for missing parts, I am offering these major parts for individual sale so you don't have to go through what I've gone through. Whenever you find you have a missing, broken, stained, or otherwise imperfect part of a Plasticville building, this is the place to come!
All the items listed here are in hand and ready to ship upon receipt of payment.

For reference purposes, I show an estimated value for each item, adjusted for condition, based on prices I found on the Internet. But these should not be interpreted as firm, fixed asking prices. Make an offer I can't refuse!
If you are interested in buying an item shown here, email me: theupstairstrain@yahoo.com. Please include your mailing address so I can calculate shipping charges and send you an invoice with the total.

Shipping cost will be actual cost via First Class mail (for a few small, light items) or Priority Mail (for larger quantities, or parts shipped with other buildings or train items). I will happily ship items together to minimize shipping costs. Any purchase over $10.00 I ship insured unless you accept full liability for loss or damage in shipment. I prefer payment by U.S. Postal Service money order, but will accept PayPal for purchases over $15.00 (including shipping) if you split their fees with me. I will accept personal checks but will hold your purchase for 14 days prior to shipment.
It is my intent to provide pictures for all these items, but until I find the time to do so, pictures are available on request. Check back often in the coming weeks!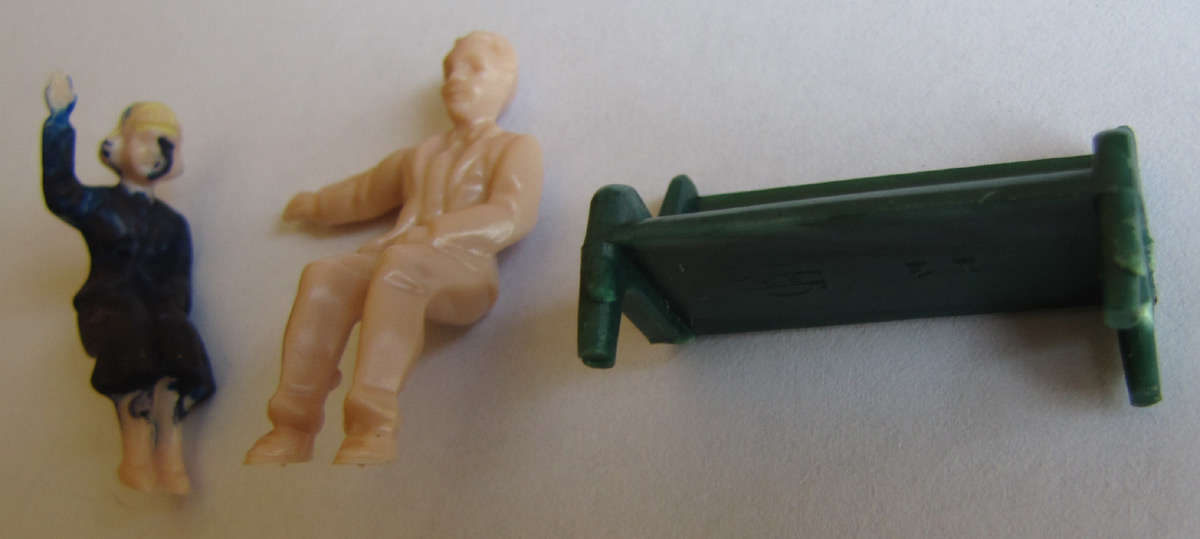 | | | | | |
| --- | --- | --- | --- | --- |
| SKU# | Short Description | Notes | Value | Owner |
| TA-301 | Park Bench | One leg broken off. | $0.25 | MY |
| | Seated man | unpainted | $0.50 | MY |
| | Seated woman | painted; blue paint on face & hair | $0.25 | MY |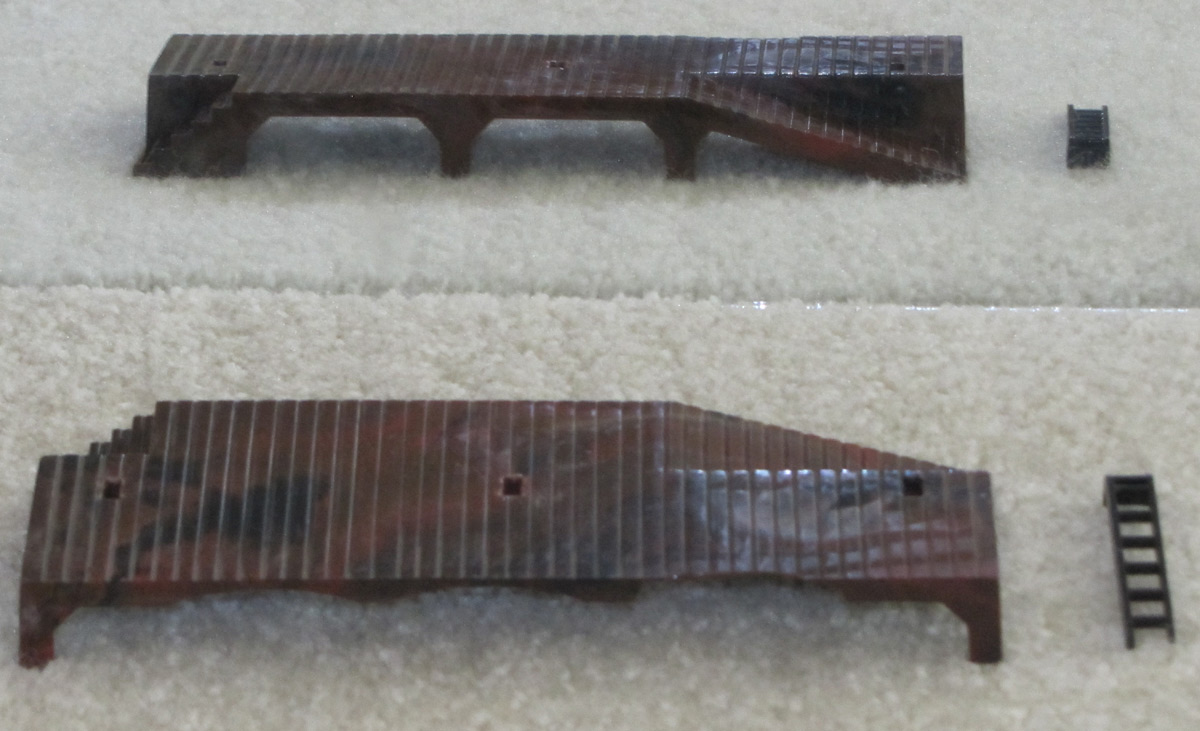 | | | | | |
| --- | --- | --- | --- | --- |
| SKU# | Short Description | Notes | Value | Owner |
| LM-3 | Platform from Station Platform | On the track side, three legs are broken off. Street side is intact, as you can see in the mirror reflection. | $2.00 | MY |
| | black plastic ladder | | $0.20 | CM |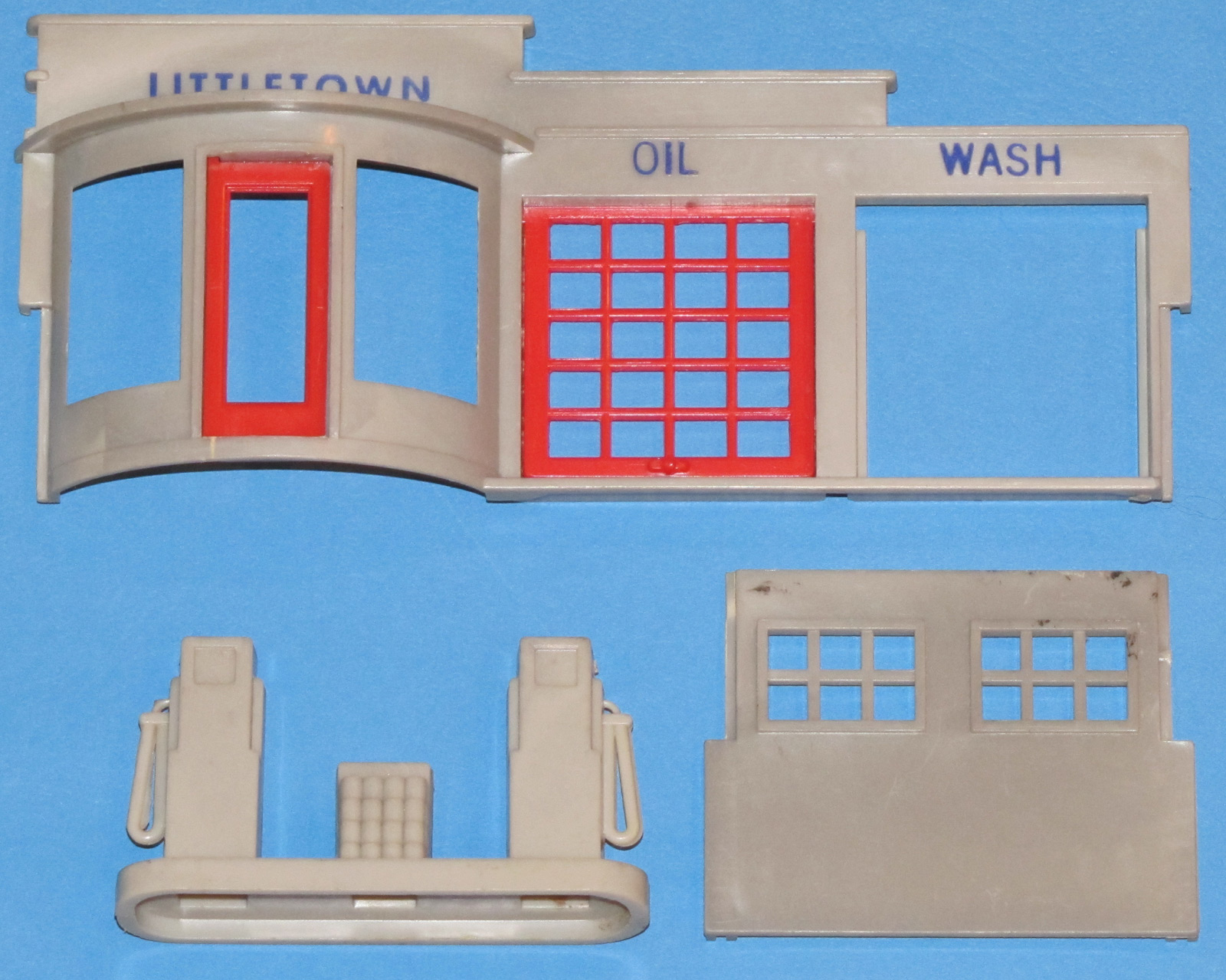 | SKU# | Description | Notes | Value | Owner |
| --- | --- | --- | --- | --- |
| 108 | One end of Littletown Gas Station | | $2.00 | CU |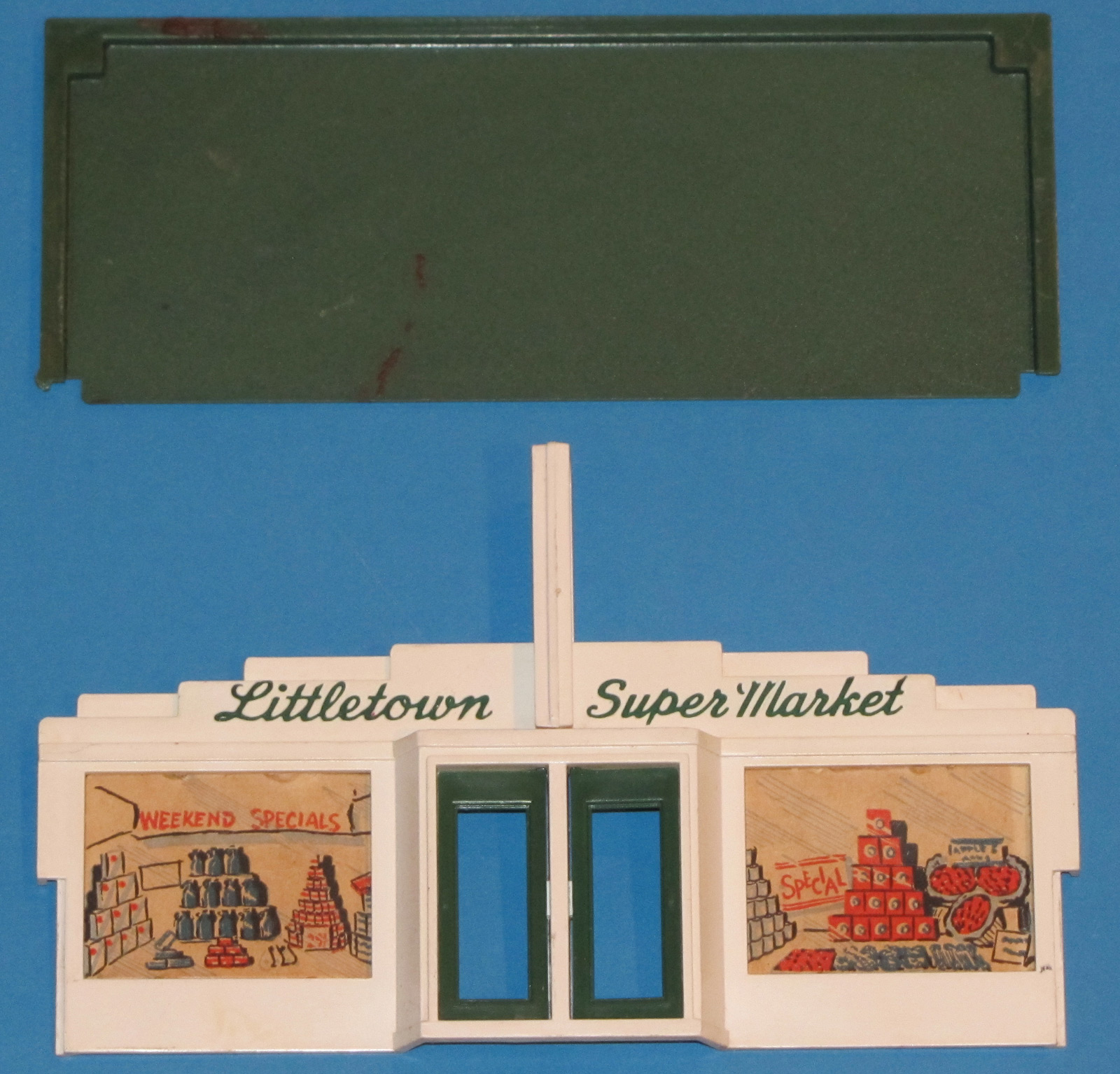 | SKU# | Description | Notes | Value | Owner |
| --- | --- | --- | --- | --- |
| | Front wall of Littletown Super Market | Dirty. Has window inserts. | $5.00 | CU |
| | Roof of Littletown Super Market | | SOLD | CU |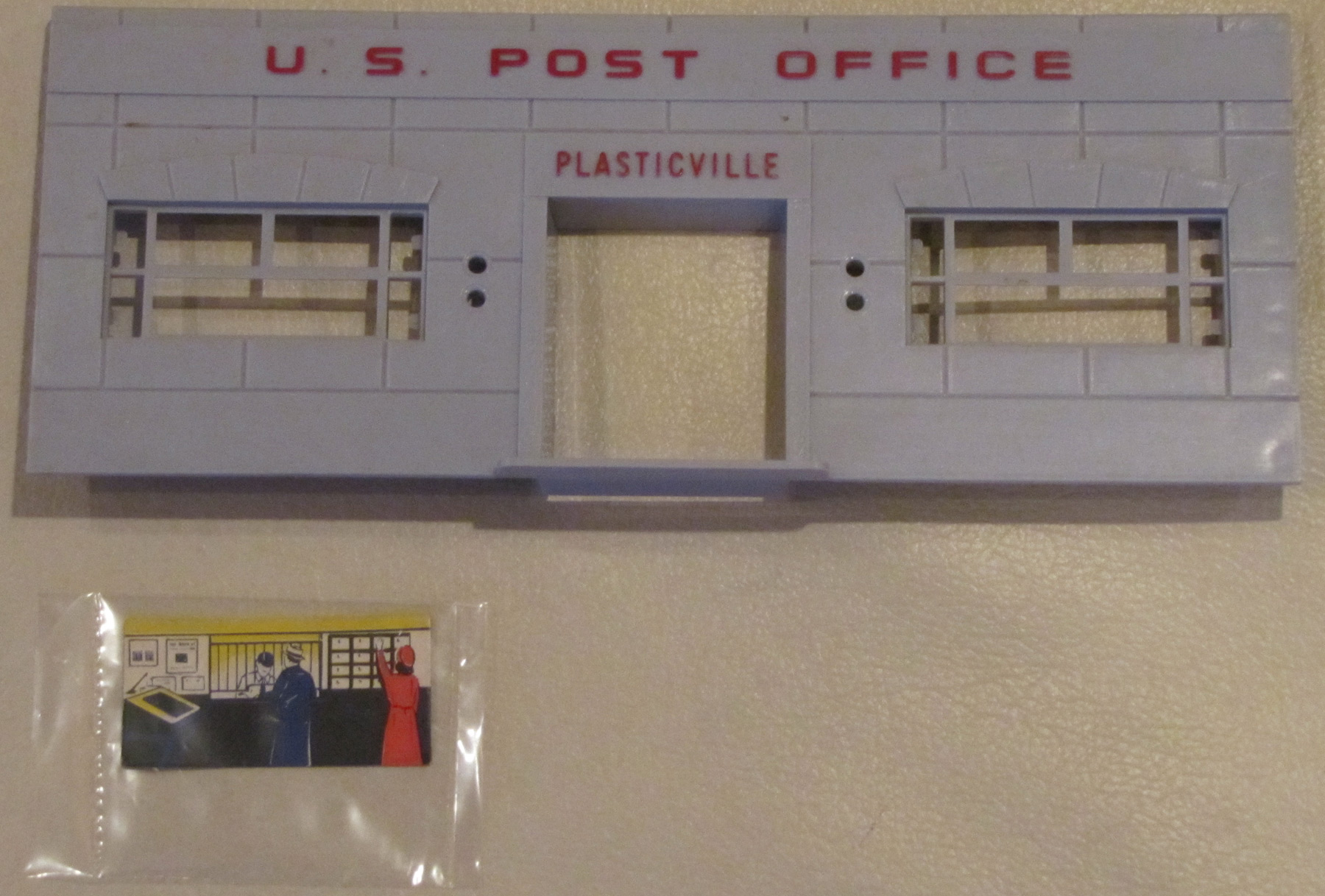 | SKU# | Description | Notes | Value | Owner |
| --- | --- | --- | --- | --- |
| | Front wall of Post Office | Window inserts, doors, and lights missing. | $3.00 | MY |
| | Left window insert for Post Office | Brand new reproduction | $2.00 | MY |
| SKU# | Description | Notes | Value | Owner |
| --- | --- | --- | --- | --- |
| | Front wall of SuperMarket | Window inserts missing | $3.00 | MY |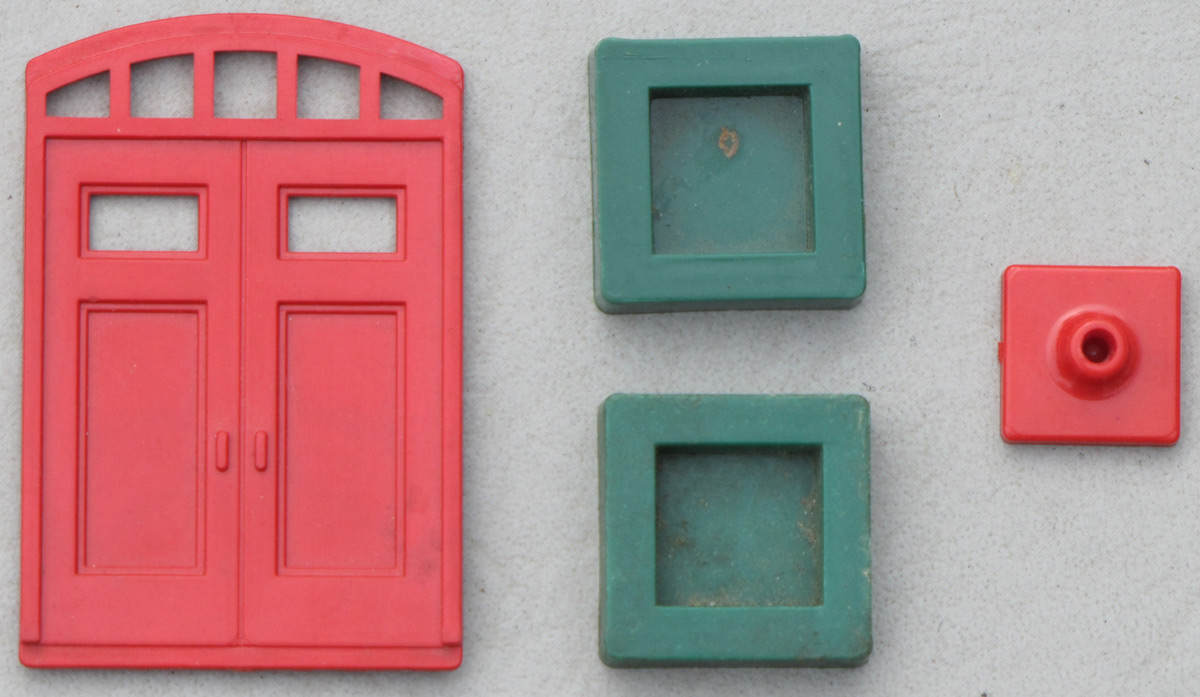 | SKU# | Description | Notes | Value | Owner |
| --- | --- | --- | --- | --- |
| | Red police station door | | $2.00 | MY |
| | Red antenna base for police station | SOLD | | |
| | Green corner chimney cap for police station | SOLD | | |
| | Green corner chimney cap for police station | SOLD | | |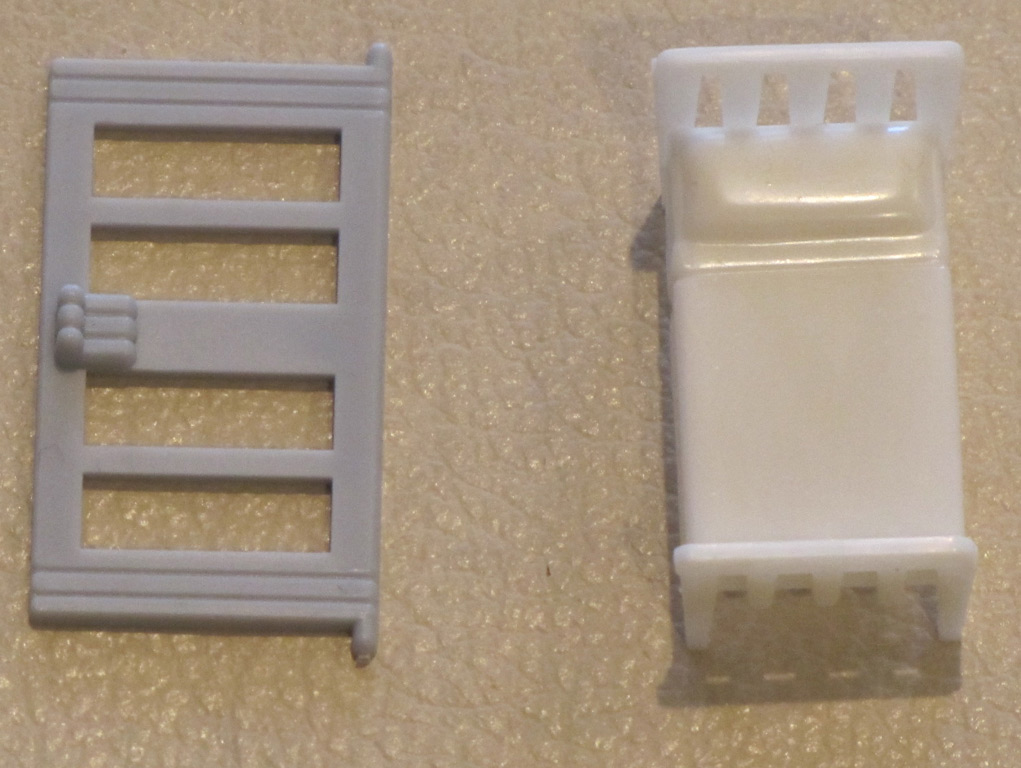 | SKU# | Description | Notes | Value | Owner |
| --- | --- | --- | --- | --- |
| | Door for Hospital | | $2.00 | JS |
| | Hospital Bed | | $2.00 | JS |
| | | | $3.00 | MY |
| | | | $3.00 | MY |
| | | | $2.50 | MY |
| | | | $3.00 | MY |
| | | | $3.00 | MY |
| | | Window insert is missing | $3.00 | MY |
| | | | $3.00 | MY |
| | Wall to the house under construction (door in middle) | missing windows and door trim | $2.50 | MY |
| | Wall to the house under construction (door on left) | missing windows and door trim | $2.50 | MY |
| | Signal bridge footing (holes 2.5 inches apart) | | $1.50 | MY |
| | Signal bridge footing (holes 2.5 inches apart) | | $1.50 | MY |
| | Signal bridge footing (holes 2.5 inches apart) | | $1.50 | MY |
| | Signal bridge light set with all 4 lenses | | $2.00 | MY |
| | | | $2.00 | MY |
| | | | $2.50 | MY |
| | Bag of HO crossing signals, gates, power poles, people, & animals | | $4.00 | MY |
| 1502 | Cape Cod Cottage: front & back walls; left & right walls; right side of roof | white with blue trim & roof. Yellow stains. | $2.50 each | MY |
| | Front wall of Post Office | Window inserts, doors, and lights missing. | $3.00 | MY |
| | Front of 5 and 10 store | Window inserts are missing | $3.00 | MY |
| | Back of 5 and 10 store | | $2.50 | MY |
| | two left sides of 5 and 10 store | | $2.50 each | MY |
| | two right sides of 5 and 10 store | | $2.50 each | MY |
| | Front of ranch house | Light blue doors | $3.00 | MY |
| | Light blue front door of ranch house | | $1.00 | MY |
| | Front of School | Lights missing; has door and windows | $3.00 | MY |
| | Back and two sides of School | | $2.50 each | MY |
| | Front door of School | | $2.00 | MY |
| | School cupola | | $2.00 | MY |
| | Steeple(?) from a church | | $2.00 | MY |
| | Crossing Gate with red base | This is the hard to find version; most have a black base. The ends of the base are broken, but if you landscape around it, nobody will ever know. | $3.00 | MY |
| | Three Red Hand Trucks from Loading Platform | Originals; no reproductions were ever made | $4.00 each | CU |
| | Two Fire Hydrants from Park Assortment Set | Originals; no reproductions were ever made | $2.00 each | CU |
| | Mailbox from Park Assortment Set | Original; no reproductions were ever made | $2.00 | CU |
| | Two Benches with no legs | These aren't park benches with the legs broken off; these were made without legs. | $2.00 each | CU |
| | Street Light | The light works | $3.00 | CU |
| | Street Light | No bulb, but I tested it with the bulb from the other Street Light and it does work. | $2.50 | CU |
| | | | | |
| | | | | |
| | | | | |
| | | | | |
| | | | | |